The Goodwood Track Day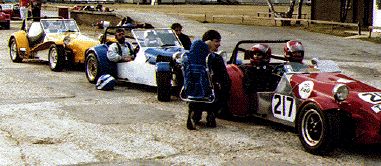 The track day is usually booked in the month of August at the Goodwood Motor circuit near Chichester, West Sussex. Requirements for safety reasons are a Helmet, Seat belts, long sleeves or racing suit and a car that has been passed by our scruteneers. Siging on and scruteneeriing take place around 9am and from then on five cars are allow out onto the track for a five lap session.

The circuit is around the WW2 airfield of Tangmere and therefore as all such circuits is quite fast. The first corner from the start is the double apex Madgwick. This is followed by a right hand kink Fordwater before the St Marys complex. St Marys has an un-named right hander leading into the left hander where Stirling Moss had his carrer ending accident. The double apex Lavent corner leads onto the main straight with a kink which can be taken flat for the brave. Woodcote corner passes the derelict shell building and leads into the chicane just before the start finish line.
---
---
The Llandow Track Day

On the 12/13 September 1997 John Smith (01494) 526748 organised a couple of days at this interesting track in Wales. Call him for details. If he sends me some photos of the event I will put them up here.

Go Back
---